Discussing the socio-economic situation on the afternoon of June 15, National Assembly delegate – Prof. Dr. Nguyen Thi Lan (Hanoi delegation), Director of Vietnam Academy of Agriculture proposed to have a policy to promote development. Innovative eco system.
According to delegate Nguyen Thi Lan, the Covid-19 epidemic has had a profound impact on the economy, politics and society of many countries and territories, and so far, unpredictable developments on a global scale.
Vietnam is a bright spot in terms of controlling and repelling epidemics and quickly approaching a new normal state. Many areas of life economics are recovering, which can be mentioned in the field of education and training.
"The Ministry of Education and Training and universities and institutes have been very proactive and quickly adapting to the epidemic, and have vividly and effectively applied information technology and digital technology to their teaching. training, especially proactively building scenarios to stabilize training activities and university entrance examination "- Prof. Dr. Nguyen Thi Lan emphasized.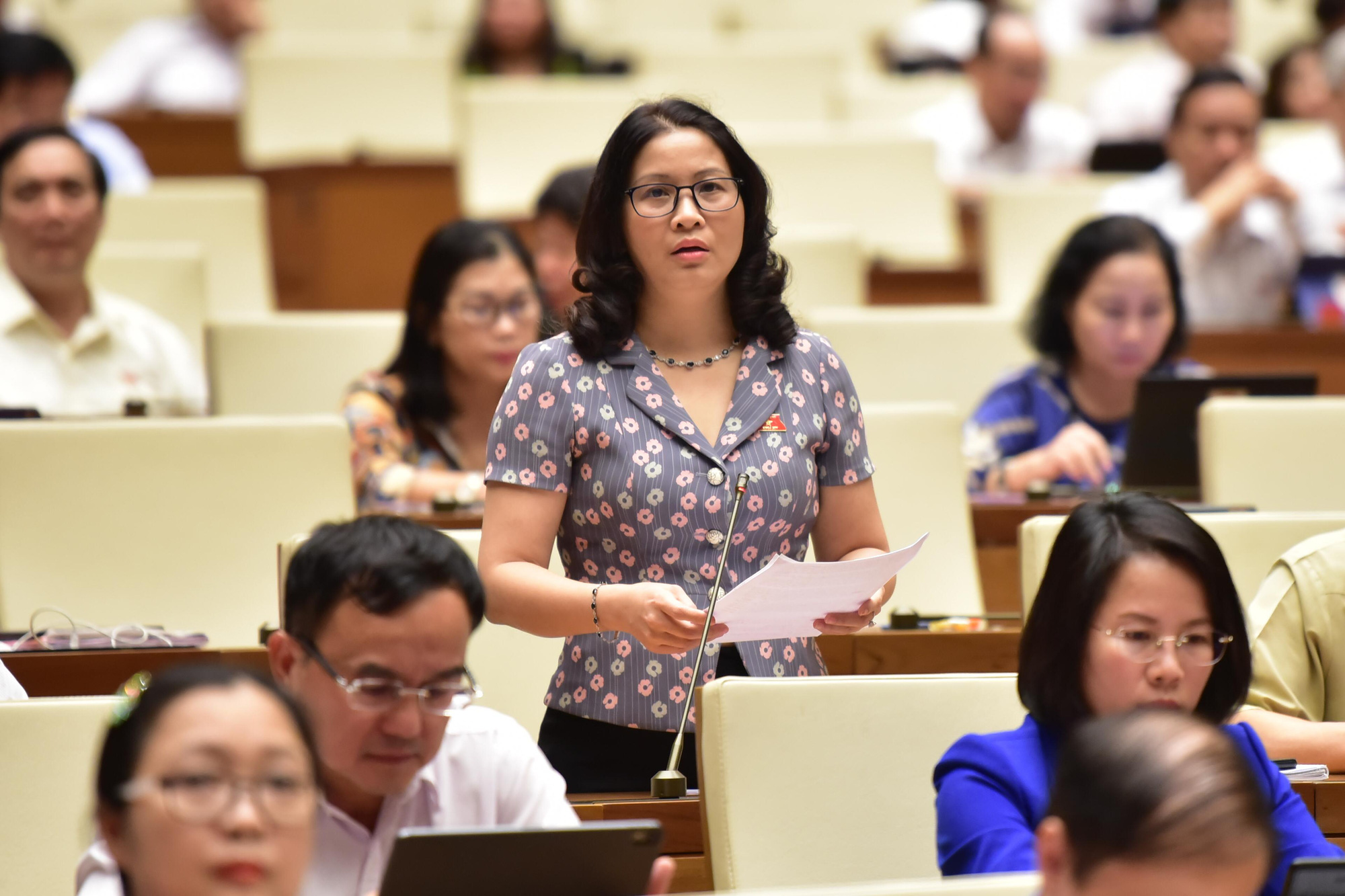 According to Ms. Lan, the Government report mentioned many tasks and solutions with high feasibility to both be ready to proactively respond to the potential risks posed by Covid-19 and to recover. recovery in socio-economic development.
"I think, both in the short term and in the long term, it is necessary to focus on scientific and technological solutions to apply in management, production organization, quality safety supervision, especially in need of development. developing an innovation ecosystem to innovate and create many technologies and consider this a breakthrough solution, a key driving force for the rapid and sustainable socio-economic development "- Ms. Lan said.
Delegate Nguyen Thi Lan said that policies for development, capacity building and national innovation were shown in Resolution No. 52 of the Politburo and concretized in Resolution No. 50. Government Program of Action.
Innovative ecosystem plays a very important role in enhancing labor productivity and competitiveness for the country's commodity products, creating a sustainable socio-economic development. .
The formation of an innovation ecosystem is a process with many breakthroughs, the backbone is the development of national science and technology with the leading role of universities, research institutes and organic stickiness with business activities.
Delegate Nguyen Thi Lan cited some successful lessons on innovation in countries around the world, where universities have become the nucleus of innovation.
For example, KU Leuven University of Belgium is Europe's No. 1 innovation institution, owns hundreds of patents per year and has created nearly 150 startups in the university across many technology fields. , each year about 2,000 transfer contracts.
Likewise in the Netherlands, home to the world's leading modern agriculture, Wageningen University is seen as the backbone, supporting the development of businesses and the formation of innovation zones such as Food Valley, Ship Valley and similar Silicon Valley in California.
"For our country to develop a national innovation ecosystem, it is necessary to synchronously and closely coordinate between the Government, research institutions, universities and enterprises" – Ms. Lan suggested.
In which, the Government plays the role of the nucleus of creation and innovation. Universities and research institutes have a leading role, guiding through source technology innovations, core problems to guide the development of the entire economy and enterprises as the central area for change. new creation.
In order to accelerate the recovery from Covid-19 and to develop a sustainable economy, Ms. Lan suggested that a comprehensive and complete assessment of the impact of the Covid-19 pandemic on all aspects of economic life is needed – society.
From there, the State can mobilize appropriate and timely resources to support people, organizations and businesses to quickly and effectively overcome the damage caused by the epidemic.
In order to proactively develop in a new normal state and a long-term strategic mission, together with institutional solutions to resources and digital infrastructure, it is necessary to develop a strategy, roadmap and medium plan. long-term, long-term and effective monitoring mechanisms to develop innovative ecosystems.
It is necessary to have a strategy to invest in planning a network of national universities, research institutes, and science and technology centers that are really strong enough, sufficient enough and strong enough to solve technology problems to serve. socio-economic development of the country.
We need to consider the development of a national innovation ecosystem as a breakthrough solution and a driving force for rapid and sustainable socio-economic development.
The strategy of developing healthy and highly constructive innovation ecosystems will definitely promote innovation in all areas of the country.
"In the agricultural sector, in particular, where we have many advantages and room to innovate and innovate is the key to turning Vietnam a strong aspiration into a powerful startup country. competition in the international arena "- stressed delegate Nguyen Thi Lan.
Trích nguồn: https://danviet.vn/dai-bieu-quoc-hoi-nguyen-thi-lan-ban-ve-he-sinh-thai-khoi-nghiep-trong-truong-dai-hoc-20200615203538323.htm?gidzl=ElSlRHKZgsSvu2Tf7JYfQpVdB644QFKvBxn-DrCtypjtldTaN3QlR73i9sPKPVjjVRvqOMCTxRqx5IYgO0